Faculty Development News This Week: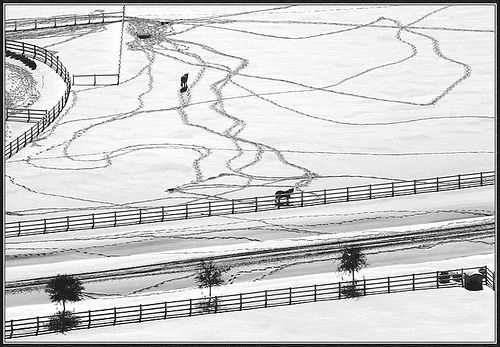 Horse artists at work!
This photograph is titled "Horses in the Snow." The photograher is Jason Kottke.


Conferences


--Learning Through Discovery: The Power of Inquiry in the Construction of Knowledge


When: November 19-20, 2004


Where: Sheraton Bloomington Hotel, Bloomington, Minnesota.


There's still time to register for The Collaboration's conference on Learning Through Discovery! Registration forms and the complete conference brochure are online at www.collab.org.


Plenary speakers are Michael Dickmann, Professor of Educational Leadership and Doctoral Studies at Cardinal Stritch University, and John Barrell, Professor, Emeritus at Montclair State University and Consultant for The American Museum of Natural History. Plus, a presentation on the brain by the Science Museum of Minnesota.

The conference will also feature pre-conference workshops and other sessions on:
Accessing the learning power of the brain
Service learning collaborations
Engaging students through content-based projects
Team-based learning
Experiential learning about diversity
and MORE.

Also, join us for our Faculty Development Coordinators' Breakfast session, our Multicultural Workshop, and networking opportunities throughout the conference. In addition, our reception features author signings, prize drawings, and live music.

If you've got registrations in the works, please drop us an email to let us know to assist in our planning. We look forward to seeing you at the conference!

The Collaboration
2356 University Avenue West, Suite 230
Saint Paul, MN 55114
Phone: 651-646-6166
Fax: 651-646-3162
collab@collab.org
www.collab.org

This resource acquired courtesy of Dr. Cheryl Frank.


Grants


--Hewlitt Packard Technology for Teaching Grant Initiative



This grant initiative is designed to support the innovative use of mobile technology in K-16 education, and to help identify K-12 public schools and two- and four-year colleges and universities that HP might support with future grants. Based on the outcomes of the projects funded through this initiative in 2005, HP will offer some grant recipients additional, higher-value grants in 2006.


For more information:


HP Technology for Teaching Grant


Service Learning / Civic Education



--You are invited to a Service Learning Brown Bag Lunch


When: Wednesday, November 10 from 12:30 to 1:30 pm


Where: Conference Room A, College Center


Topics: Student Reflection: Journals and / or Essays, and International Service Learning Opportunities

If you are unable to attend but would like additional information on these topics, please contact:
Trent Anderson, IHCC Service Learning Coordinator, tanderson@inverhills.edu 651-554-3730
This resource provided courtesy of Trent Anderson. Thanks, Trent!


--FreeCycle


This might be a worthwhile campus project. Read on.


The worldwide (!) Freecycle Network is made up of many individual groups across the globe. It's a grassroots movement of people who are giving (& getting) stuff for free in their own towns. Each local group is run by a local volunteer moderator (them's good people). Membership is free. To sign up, find your city by clicking on the region on the right. It will generate a automatic e-mail which, when sent, will sign you up for your local group and send you an response with instructions on how it works. Or, go directly to the webpage for your city's group by clicking on your city's link on the left. Have fun and keep on Freecyclin'!


The Freecycle Network is nonprofit organization whose mission includes keeping good stuff out of landfills and helping strengthen local gifting & recycling communities.


The Freecycle Network was founded in May 2003 to promote waste reduction in Tucson, Arizona and, in doing so, help save desert landscape from being taken over by landfills. It has since grown a bit to encompass nearly 30 countries and hundreds of thousands of "freecyclers" across the globe. Freecycle provides individuals and non-profits an electronic forum to "recycle" unwanted items. One person's trash can truly be another's treasure!


Organizational Development


--The Art of Scenario Thinking for Nonprofits


Read this introduction:


Scenario thinking is a tool for motivating people to challenge the status quo, or get better at doing so, by asking "What if?" Asking "What if?" in a disciplined way allows you to rehearse the possibilities of tomorrow, and then to take action today empowered by those provocations and insights. What if we are about to experience a revolutionary change that will bring new challenges for nonprofits? Or enter a risk-averse world of few gains, yet few losses? What if we experience a renaissance of social innovation? And, importantly, what if the future brings new and unforeseen opportunities or challenges for your organization? Will you be ready to act?


This is a 115-page PDF document.


Digital Culture


--Cities Without Borders


This thought-provoking article discusses how economic production is centralizing away from national economies to an emerging network of "global cities." Because these global cities have closer ties to each other than to their surrounding regions or national economies, they mark a fundamental change in the nature of production and in social institutions, including colleges and universities.


This article is in the recent issue of MindJack Release, 5 November 2004.


--Open Source Currency


This article is subtitled "Or, how mobile phones can break the money monopoly."


This resource, referenced in Mindjack Release, is from The Feature, 13 October 2004.

--The Future of Work (ISBN 1-59139-125-3)


Author Thomas W. Malone, Harvard Business School, suggests that we may be moving from "command-and-control to coordinate-and-cultivate" work force. Reason: telecommunications will facilitate decentralized coordination. "Cultivation" means cultural modes of production and reproduction will predominate over economic ones.


This resource referenced in MindJack Release.


--Out of Control (online book)


Out of Control is a summary of what we know about self-sustaining systems, both living ones such as a tropical wetland, or an artificial one, such as a computer simulation of our planet. The last chapter of the book, "The Nine Laws of God," is a distillation of the nine common principles that all life-like systems share. The major themes of the book are:

As we make our machines and institutions more complex, we have to make them more biological in order to manage them.

The most potent force in technology will be artificial evolution. We are already evolving software and drugs instead of engineering them.

Organic life is the ultimate technology, and all technology will improve towards biology.

The main thing computers are good for is creating little worlds so that we can try out the Great Questions. Online communities let us ask the question "what is a democracy; what do you need for it?" by trying to wire a democracy up, and re-wire it if it doesn't work. Virtual reality lets us ask "what is reality?" by trying to synthesize it. And computers give us room to ask "what is life?" by providing a universe in which to create computer viruses and artificial creatures of increasing complexity. Philosophers sitting in academies used to ask the Great Questions; now they are asked by experimentalists creating worlds.


As we shape technology, it shapes us. We are connecting everything to everything, and so our entire culture is migrating to a "network culture" and a new network economics.
In order to harvest the power of organic machines, we have to instill in them guidelines and self-governance, and relinquish some of our total control.

Read the book online:

Design


--Open, Collaborative Design


ThinkCycle is an academic, non-profit initiative engaged in supporting distributed collaboration towards design challenges facing underserved communities and the environment. ThinkCycle seeks to create a culture of open source design innovation, with ongoing collaboration among individuals, communities and organizations around the world.



Why the cow? She is the ambassador for the next site:


--One Minute Site


Spend one minute and improve your Web site design.


Pedagogy


--Best Practices: Online Education


Read the "Introduction":


These Best Practices have been developed by the eight regional accrediting commissions in response to the emergence of technologically mediated instruction offered at a distance as an important component of higher education. Expressing in detail what currently constitutes best practice in distance education they seek to address concerns that regional accreditation standards are not relevant to the new distributed learning environments, especially when those environments are experienced by off-campus students. The Best Practices, however, are not not new evaluative criteria. Rather they explicate how the well-established essentials of institutional quality found in regional accreditation standards are applicable to the emergent forms of learning; much of the detail of their content would find application any learning environment.


Tools


--*Evite


This utility coordinates the schedules of people who are not only dispersed widely but who often don't know each other. Its simplest function is to invite a group of people to a meeting, with the option of having "invitees" share the emerging list of who is coming.


--*E-Groups


Do you need to manage an ad hoc or emergent group? Well, head to this site, E-Groups, which offers an easy way to send out mailings to a list of people and coordinate their replies. It also offers calendars for groups, automated reminders for groups, and other community-minded features.


--*Universal Currency Converter


This is a goodie for all travelers.


--*Free Clipping Service


Although biased toward business and technology, this is a free clipping service that E-mails you headlines or summaries of whatever subjects you ask for.

Individual.com

--*Bibliofind


This is a resource for out-of-print books. The company is in partnership with Amazon.com.


*These resources acquired courtesy of Kevin Kelly WholeEarth.com, Winter 2000.


--Anim-FX Flash Intros and Banner Builder


Anim-FX is a multiline Flash introduction and Banner builder. With Anim-FX you can create animated text effects, such as introductions, splash screens and banners for your website. It is a very compact tool, based on a wide range of animation templates.

Benefits of Anim-FX:

1) Up to 5 lines of animated text.
2) Unlimited number of characters
3) 53 great templates
4) Background and text animations
5) User-friendly interface.
6) Easy to update


--Multiply


What is Multiply? Read on:


Multiply is a new social software concept that has been publicly available on the Internet since April 2004. Multiply combines personal weblog-style knowledge management (Blogger.com), online community concepts (Yahoo! Groups), friend network software (Orkut.com), personal messaging (E-mail) and discussion boards (such as newsgroups). This interesting combination that lets you easily manage your publications, web-based discussions, and community subscriptions.


This resource acquired from Goiaba
Knowledge Base, 27 October 2004.


Blogging


--Survival Guide to Homelessness


Read the "introduction" to this blog:


I spent nearly five years, from mid-1996 to the beginning of 2001, homeless, or as I liked to call it with a distributed household. I had storage, shelter, mailbox, telephone, shower, bathroom facilities, cooking equipment, and transportation, even access to television, radio, computer equipment, and ac power. I had the essence of a home. It was simply more geographically scattered than is traditional in our culture.


I'm not the first to do what I did, to live homeless well. I'm not the first to find advantage in homelessness. It is a well kept secret that homelessness can be freedom and comfort can attend it. The secret is well kept because revealing that you are homeless in this society is dangerous. There is stigma. There are even laws prohibiting it. Imagine that. There are laws against being homeless. Let me say that one more time. There are laws against being homeless.

Survival Guide to Homelessness


Diversity


--Jingu: Shinto Shrine

The Jingu is rebuilt every 20 years. This ceremony is called the Shikinensenngu. All the shrines in the Jingu, including the Goshoden, are rebuilt. In other words, the gods can live comfortably in newly built shrines at a cycle of 20 years. This ceremony is the house-moving of the gods.

Jingu


--Corridor: A Graphic Novel of India (author: Sarnath Banergee)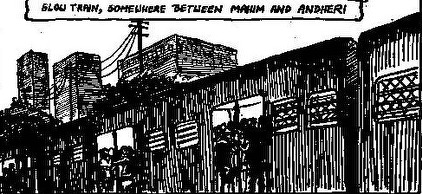 In the heart of Lutyens' Delhi sits Jehangir Rangoonwalla, enlightened dispenser of tea, wisdom, and second-hand books. Among his customers are Brighu, a postmodern Ibn Batuta looking for obscure collectibles and a love life; Digital Dutta who lives mostly in his head, torn between Karl Marx and an H1-B visa; and the newly-married Shintu, looking for the ultimate aphrodisiac in the seedy by-lanes of old Delhi. Played out in the corridors of Connaught Place and Calcutta, the story captures the alienation and fragmented reality of urban life through an imaginative alchemy of text and image. (Editorial Review from Amazon.com, http://www.amazon.com/exec/obidos/ASIN/0143031384/downandoutint-20/103-2135069-8423023)


I acquired this resource from BoingBoing 5 November 2004.


--The Hindu: India's Online National Newspaper (in English)



India's national newspaper online.


Blog Grab Bag


--Thinking Machine4


Thinking Machine 4 explores the invisible, elusive nature of thought. Play chess against a transparent intelligence, its evolving thought process visible on the board before you.


The artwork is an artificial intelligence program, ready to play chess with the viewer. If the viewer confronts the program, the computer's thought process is sketched on screen as it plays. A map is created from the traces of literally thousands of possible futures as the program tries to decide its best move. Those traces become a key to the invisible lines of force in the game as well as a window into the spirit of a thinking machine.


Below, see the machine's thoughts, endgame. The machine foresees that white's pawn will become a queen, and dominate the board as the black king flees.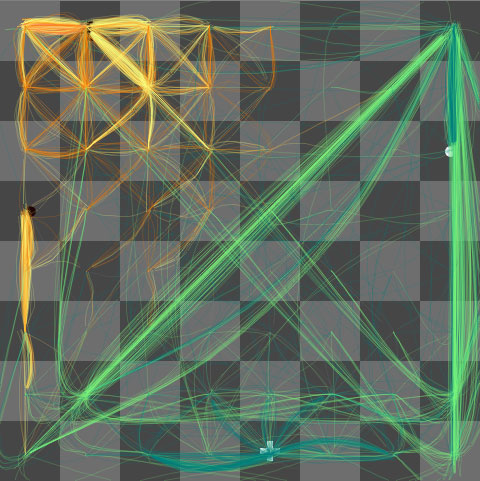 --Toll-Free Number to Congressional Switchboard


Here is the number: 800-839-5276.


--Weight Room for the Brain: IntelliGym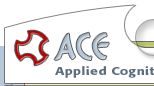 IntelliGym, a game created by the Israeli company Applied Cognitive Engineering Inc., assists athletes with mental concentration. The company's research supervisor, Daniel Gopher, first tested the theory with a study on Israeli pilot cadets in the 1980s.


Here is an excerpt from the promotional literature:


The ACE IntelliGymTM is a groundbreaking training system for enhancing basketball player game intelligence. This innovative software-based training tool dramatically improves real-time decision-making and increases execution quality. Featuring a computer-game facade, ACE IntelliGymTM trains the skills that control complex basketball related tasks. These skills include: continuous decision making, shot selection, recognizing opponent's moves, game creativity, and peripheral vision. All are cognitive skills, which are proven to be dramatically improved when trained properly. In this respect, training these skills is similar to training muscles. ACE specializes in the development of "fitness equipment" for these "muscles" in the brain.


--Create Your Own Met Gallery


The New York Metropolitan Museum of Art offers online patrons the ability to create a personal gallery from a selection of online art work. Free;however, registration is required.


--Audio Tour of Post-War & Contemporary Art


This is an audio tour of art work that will be auctioned at Christie's, 10 November 2004, 7:00 PM (EST),20 Rockefeller Plaza, New York City, New York.


See art work most of us never get an opportunity to see, such as this work by Jaspar Johns,Untitled, Oil on canvas with painted frame. Estimate: $3,500,000-$4,500,000.


Start the bidding, anyone?


--Hello Kitty Online Game World



Hello Kitty World allows thousands of players to live and participate in Hello Kitty's online world. You will be able to roam the streets of Kitty Kingdom, XO Federation, and Melody-land. Enjoy the beautiful landscape and architecture of Puroland or Badtzcity, and participate in numerous puzzles, story lines, or adventures lead by the worldwide community of Hello Kitty World subscribers.


Here is one HelloKitty enthusiast, Cameron Diaz:



This resource courtesy of PlasticBag.org


--Frag Dolls


Enter the realm of Frag Dolls, a group of girl gamers out to have a little fun.

--National Law Center on Homelessness and Poverty


The mission of the Law Center is to prevent and end homelessness by serving as the legal arm of the nationwide movement to end homelessness. To achieve its mission, the Law Center pursues three main strategies: impact litigation, policy advocacy, and public education. To amplify the work of its small staff, the Law Center relies on interns, volunteers, and the pro bono assistance of the private bar.


National Law Center on Homelessness and Poverty


--Squat.Net


Squat.net is an international internet magazine with main focus on squatted houses, car sites, and other free spaces.


--Eboy: Pixel Art



Where does the inspiration for this art form come from?


From Pop culture ... shopping, supermarkets, TV, toy commercials, LEGO, computer games, the news, magazines.


--All-Species Foundation

The All Species Foundation is a non-profit organization dedicated to the complete inventory of all species of life on Earth within the next 25 years - a human generation.

All-Species Foundation


Until next week!


Blog Editor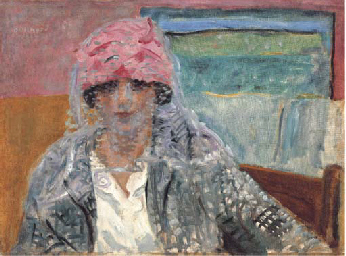 Woman with a Veil, Pierre Bonnard (ca. 1917) , recently auctioned at Christie's.


Photo Credits
--"ACE logo," http://www.ace4sports.com/product.html
--Cameron Diaz," 182 x 250 pixels - 12k
www.etincelle.co.uk/ news.htm
--"Cities Without Borders," http://www.mindjack.com/feature/cities.shtml
"Corridor," http://boingboing.net/
--"Cow,"http://www.changethis.com/7.OneMinuteSite#
--"End Game,"http://turbulence.org/spotlight/thinking/gallery.html
"Hello Kitty," 800 x 600 pixels - 51k
www.publispain.com/ hellokitty/wall8.htm
--"Hewlitt-Packard," http://grants.hp.com/us/programs/tech_teaching/index.html
--"The Hindu" Logo,http://www.hinduonnet.com/
--"Horse Trails in the Snow," http://www.flickr.com/photos/gregeans/1039747/
--Jaspar Johns, "Untitled,http://www.christies.com/promos/nov04/1431/promo_gallery.asp?page=7
--"Lifesavers," http://www.eboy.com/browse/basic_plicas/plicas-candybar
--"Service Learning Logo,"
426 x 371 pixels - 108kms.students.estrellamountain.edu/ servicelearn...
build3.gif454 x 550 pixels - 69kwww.learningindeed.org/ map3.html
logo.jpg300 x 211 pixels - 19kdepartment.rwu.edu/ ~cad/images/logo.jpg
--"Woman with a Veil," http://www.artsjournal.com/man/