Faculty Development News This Week:

CTL at Inver Hills


** Do you know Inver Hills has a CTL Active Learning Advocate?
Shannon Marting, Economics Department, is our CTL faculty resource person and peer consultant. Shannon, pictured below, has been teaching economics at Inver Hills for 14 (bravo!) years. In her new position as Active Learning Advocate, partially funded through the MNSCU Center For Teaching and Learning, she is helping to pilot initiatives such as the faculty-student mentoring program and a coordinated adjunct faculty training program. Contact her to offer suggestions on how she might use her new role to develop activities that contribute to student success in the Inver Hills community.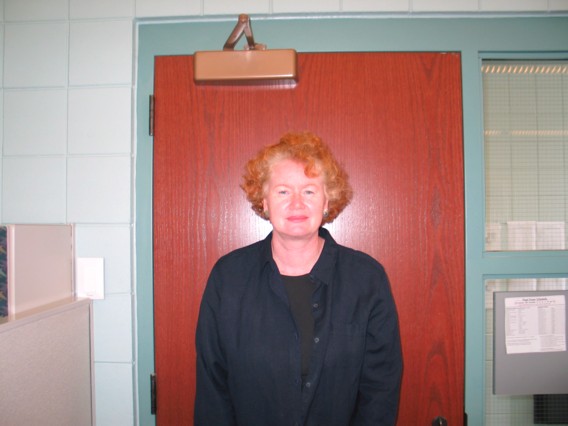 Shannon Marting, Office 303 Heritage Hall


**Inver Hills Faculty Roundtable

"الانتصار من الظالم : أخذ الحق منه" is Arabic for "avenging oneself on the unjust." Come hear Doug Knapp address Al-Qaeda's rationale and motives at the first- of- the- academic- year Faculty Roundtable, October 2, Thursday, 12:30-1:30 PM. Location: Conference Room B, Student Center. A light luncheon will be served. Please R.S.V.P. by clicking Comments above.


Education / Conferences


**A Learning-Centered Ph.D. for Community College Leaders

Terry O'Banion and Jonathan Kaplan think the time is right for a learning-centered Ph.D. designed for community college leaders. Read about this revolutionary idea: A Learning-Centered Ph.D. for Community College Leaders


**League for Innovation Conference

INNOVATIONS 2004 CONFERENCE
February 29 - March 3, 2004, Hilton San Francisco
For information, click
Innovations 2004 Conference


Grants


**MNSCU Grants

MNSCU Grants


**MNSCU Links to Federal Grants

Federal Grants


**American Association of Community Colleges

American Association of Community Colleges


**National Science Foundation Grants

National Science Foundation


**Council of North Central Two Year Colleges

Council of North Central Two Year Colleges


**Grant Writing Tutorial

This online tutorial, offered by PBS, is an easy guide to the basic elements of grant writing and is intended to assist applicants to Corporation for Public Broadcasting grants and to other funding sources. It offers guideposts to help you through each stage of the process. These guideposts are transferable to a variety of grant applications; however, you should carefully read the guidelines written for each grant you select.
Basic Elements of Grant Writing


Teaching


**Effective Teaching Practices, Normandale Community College

See what our colleagues at Normandale have come up with!
Effective Teaching Practices Handbook


**Teaching Tips

This teaching tips cornucopia is from the Honolulu Community College Web site.
Faculty Development Teaching Tips Index


**Difficult students or students with difficulties?

This article is from the University of Toledo.
Dealing with Difficult Students and Students with Difficulties


**Teaching gay, lesbian, bisexual, and transgendered students

This is a publication of ERIC, Educational Resources Information Center.
Adult Education and Gay, Lesbian, Bisexual, and Transgendered Communities


Blog Grab Bag


**Technology and Organizational Engagement

"The technology in your organization is about being empowered, proactive, and successful. It's about setting your goals high, then using the right tool at the right time to not only meet that goal, but exceed it. It's about recruiting new constituents, really getting to know them, and building a relationship that will grow and last." If this quote tempts you, check out the Web site for TechRocks:
TechRocks


** Building Community

This site is for community-serving organizations, fundraisers, academics, and students who are using technology to improve their local communities. Active learning / service learning applications abound here.
Community Connector


**The Web as cultural icon

This is an interesting article published in D-Lib Magazine,April 2003
(Volume 9 Number 4). For a perspective on librarians / information specialists as the high priests/ priestesses of the 21st century, click here to read the article:
Trends in the Evolution of the Public Web


**Academic Resources Newsletter

This is a free, monthly newsletter for academics, students, engineers, scientists, and social scientists. Lots of goodies here, everyone!
Academic Resources


**Arts and creative industries Web site

Resources for the performing arts, fashion, design, architecture, and more.
Artifact


**Search Engine for pictures / images

Even if you are a confirmed Google user, give it a try!
Picsearch


**General search engine

Want to try out a new search engine that bypasses the commercial quagmire? Search Portfolio, a subscription based search engine, offers a free "lite" version to try out.
Search Portfolio Lite


**U.S. Department of Education

A database of thousands of organizations providing current, subject-specific resources on education-related topics. Organizations include regional education laboratories,
national research centers, professional research organizations, etc., offering assistance and/or information on a state, regional, or national level. Searchable, and
browsable by organization type and by state and territories (use the map and list icons).
United States Department of Education


**Biological and cultural diversity

The International Society for Ecology and Culture promotes locally based alternatives
to the global consumer culture. Resources offered on their Web site: books, reports, conferences and films; local, national and international networking; community initiatives; and campaigning.
Ecology and Culture


**Should We Celebrate Columbus Day?

The American Indian Movement (AIM)says: no!. For a new perspective on an old American holiday, click on
Say No to Columbus Day


Faculty Publications / Exhibitions


**Art instructor Wendy Olson is having an exhibition at the Northern Clay Center. The exhibition begins September 19th, with an opening reception from 6:00-8:00 PM. The exhibition will run September 19-Nov 1. The Northern Clay Center is located at 2425 Franklin Avenue East, Minneapolis. Congratulations, Wendy! Click on the link to see a PowerPoint presentation of Wendy's work. (Use arrows on right-side of your computer screen to move through the slides.)
NCCshow[1].ppt


**Announcing Martin Springborg 's new book Proof: Ruminations on the Everyday (Crotalus Publishing).
A release party for the book will be held at The Minnesota Center for Photography, 711 West Lake Street, Minneapolis, Saturday, October 4. Martin will be on hand to the party to sign copies of his books. In addition, select photographs from his book will be on exhibit at the gallery. Congratulations, Martin! Click on links to view an exhibition photo and a self-portrait.
Martin Springborg, Self Portrait.bmp
Maple Lake V.F.W..bmp


Until next week!


Blog editor